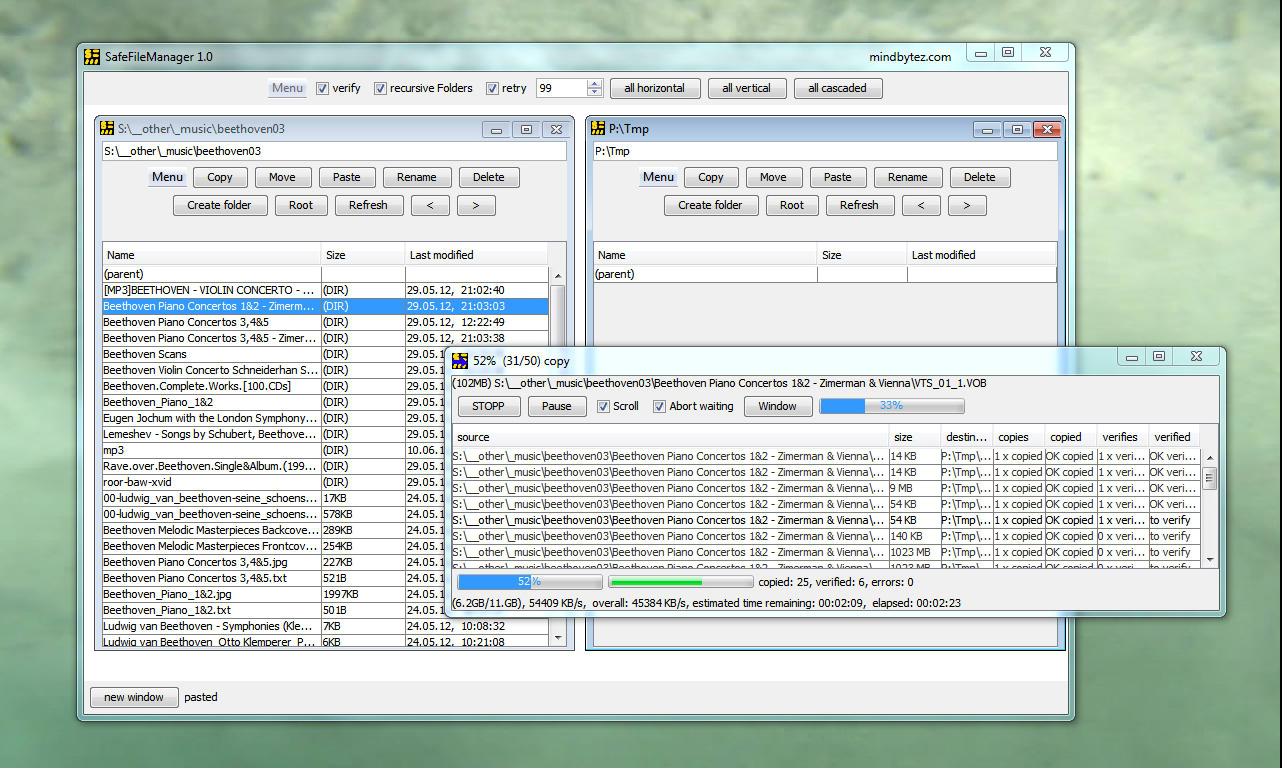 SafeFileManager is free full software. You can use it for free.
SafeFileManager is a lossless file manager that copies or moves files and directory trees and checks whether these transfers completed correctly to the last bit and tries again and again if not. All works automatically. If files are moved, they will be deleted from source directory only if verified correctly. Supports unlimited panes. Remembers directory locations. Limits transfer speeds if you like. Languages at the moment: English/German.
You can download the SafeFileManager here. Please choose one package below. If unsure, just download and run the "SafeFileManager_v1.2_Installer.exe" file. You will be guided through the installation process.
The alternative jar file is for experienced users only:
The software is full and freeware. You can use it for free.
Download the jar file for usage in any distribution or operating system (minimum installation for the jar file is jre7).
Need to transfer Gigabytez of Movies, Software, Music? Don't want to lose a bit? Need to rescue files from a damaged CD? Need to know which network path is safe? SafeFileManager will do all the trying and copying for you. Get a complete log which files failed how often. Know what is done and what files give you trouble. Get the SafeFileManager now.
This is software to keep your file collections intact. Don't lose your precious files while sorting or moving them.
We will develop the software further and we are very happy if you send us your suggestions for improvements or point to bugs we may have missed to eliminate. Please mail to ear@mindbytez.com what, for example, you would need or expect from a safe file manager or any file manager.
If you are familiar with java, you can download the jar file only. To run it, you must have installed at least jre7 on your system. You can use it on Mac, Linux or Windows.
contact: ear@mindbytez.com
public key for ear@mindbytez.com to send us encrypted mail